Warner Migration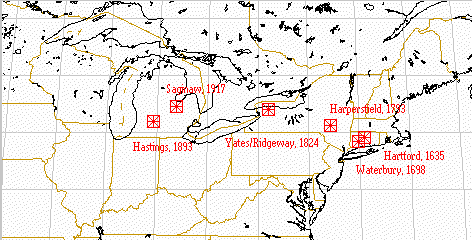 John Warner was born in 1615, somewhere in England. He immigrated to America aboard the "Increase" in 1635, arriving in Watertown, Massachusettes, the indentured servant of Matthew Marvin. That same year, they moved to Hartford, CT where John was awarded land for his service in the Pequot Indian wars.

John's son Daniel Warner was born 1643 in Hartford, his mother being a matter of much dispute and discussion. Daniel married Sarah Roe, the daughter of Hugh and Abigail Roe of Hartford. Daniel was one of the original proprietors of Farmington, Connecticut, but seemed to inherit his father's wanderlust. He was not there long when he began speculating on land, and shortly thereafter was awarded the "Mattatuck Plantation" with five other gentlemen, which would soon become the town of Waterbury. Daniel died before actually moving his family there.

Daniel of Farmington, as he was known, had his son Daniel in 1667 in Farmington. Daniel inherited his father's stake in Waterbury and was living there already in April of 1693 when he married Mary Andruss, the daughter of Abraham Andruss and Rebecca Carrington. Daniel died of a plague in Waterbury, September 13th, 1713.

Daniel's son Samuel was born September 16, 1698. (Some records show April) and married on December 21, 1719 Elizabeth Scott, the daughter of Edmund Scott and Sarah, the widow of Benjamin Porter.

Samuel's son Enos was born June 14, 1736 in Waterbury and married his wife Lydia Williams, also of Waterbury, April 28, 1769. Enos removed to Harpersfield, Delaware County, New York with the family, but it is thought that he lived elsewhere in Connecticut for a short time before doing so. I've just learned that the house where he resided in Harpersfield is still standing, and have had a delightful chat with the current resident. He has the deed to the property where Enos Warner bought the home from John Harper in 1794.

Enos' son Jotham was born April 22, 1770 in Waterbury. It is most probable that his wife is Esther Senter, as is recorded in The Greely Genealogy, and the Senter family is thought to be from New Hampshire, though this is at best speculation at this time. The marriage probably occurred in Harpersfield, New York.

Rensaelar Warner, the son of Jotham and Esther, was born in Harpersfield New York on October 9, 1793. His wife, Anna Greeley was the daughter of Noah Greeley and Anna Powers, and was born in Nottingham West, New Hampshire August 11, 1795. His grave can still be seen at the Yates Center Baptist Church in Lyndonville, NY. (In June 2002 Gary and Zachary Warner visited his grave, as well as his property which includes shoreline on Lake Ontario. The southern portion of the property is currently addressed as 12375 LakeShore Road.)

Enos and Rensaelar moved the family to Western New York by 1820. They are to be found on the New York census of 1800 in Delaware County, and on the census of 1820 living in Ridgeway New York. 1810 shows them in neither location. Jotham's destiny is unknown, and it is thought that he died at a young age.

Rensaelar's son Jasper was born in Yates, in what is now Orleans County, New York, September 26, 1824. He married in Gaines, New York on September 28, 1845, his bride Elmira Fuller, the daughter of Harmon Fuller and Polly Barnum. I BELIEVE this is the Jasper Warner who enrolled on August 11th, 1862 at Canandaigua, NY, to serve in the 4th New York Heavy Artillery, Company H. He mustered out June 3, 1865. Elmira was born in Carlton New York, and with this new connection the Warner family found itself bound west yet again, to Carlton Michigan, settled by families from Carlton New York. The 1880 Census of Carlton, Barry County, Michigan lists Jasper (age 55) as being born in New York, with father born in New York and mother born in New Hampshire. His occupation is given as Stone Mason. His sons Liberty C. (age 22), a stone mason, and Ozro F. (age 20), a farm laborer, are also listed, along with grand daughter Stella Sherman (age 10) and nephew Willord Warner (age 26), a cooper.

Ozro Freeman Warner, the son of Jasper and Elmira, was born September 14, 1859 in Yates, and married Violet (Viola) Connett, the daughter of Isaac Connett and Fidelia Perry. Viola is found with her father's family in the 1880 census. Isaac is listed in the 1880 Census of Carlton, Barry Co, MI as being age 45, a carpenter, born in New York. His wife is given as "Phidelia", age 32, born in Michigan, with children Ellen (age 15), Orson F. (age 13) Viola (age 8), Mirta (age 4), Uretta (age 3) and Stephen W. (age 1)

Guy Lynn Warner, the son of Ozro and Violet, was born January 1, 1893 in Hastings, Barry County, MI, a short distance from Carlton (His obituary calls it Carlton Center). He married on December 29, 1917 Mabel Dobson, a first generation immigrant from England, and they moved to Saginaw in 1919. Guy served in WWI, attended Calvary Baptist Church, and died September 6, 1968. He is buried in Roselawn Cemetary in Saginaw. Mabel died in 1995, still living in Saginaw, Michigan.

Hubert Earl Warner, Guy and Mabel's son, was born November 2, 1919 in Saginaw Michigan. He worked as a machinist in Saginaw until the 1970s, when a stroke forced early retirement. He was fond of fishing, and I spent many fond summers in his boat on Otsego Lake, Michigan. His wife, Esther Altheda Purdy, married "Bud" June 17, 1942. Her husband died September 20, 1988, a victim of Alzheimer's disease. Esther died November 9, 1997 in Canton, GA, where she had moved to be near her children.

Bud and Esther had two children, Gary Lynn, and Jan. Gary was born March 20, 1945, and after deciding to join the ministry, went to Judson College in Elgin, Illinois. His wife-to-be, Sallie Schissler also went to Judson, and they were soon married. After several years of school, and 18 years of ministry, Gary and Sallie moved to Alabama, where Gary retired from the ministry to start his own business. They were soon after divorced. Jan lives with her husband Don Tunget, and five sons (Joe, Jim, Jeff, Josh, and Jonathon) north of Atlanta, Georgia.

Sally (new spelling) Schissler has a small ballet costuming company and lives in Leeds, Alabama where she serves as the matriarch of the Warner family, and provides motherly and grandmotherly services to her growing brood, now six children and nine grandchildren.

Gary and Sallie's children are:
Gary Lynn Warner, Jr.

Married to Carol Ann Bakie, now living in Birmingham, AL with two children Zachary Daniel Warner, and Kyriae Michele Warner. Gary is Director of Client Support at Energen. (Your on his web page now!)

John Michael Warner

Married to his wife Donna and living in Virginia Beach, VA with Donna's two daughters, Lindsey and Lauren, and their own daughters, Madison & Ashleigh, and newest addition Michael! John was a "nuke" in the Navy, and retired as a Naval Flight Officer. He and Donna manage their real estate properties from Chesapeake.

Benjamin Edwin Warner

Married to Linda Gracia, Ben & Linda live in Leeds, AL with their children Christopher, Jonathon, and Anna. Ben is an entrepeneur with a sales business, a vending machine route, and a job as a manager at a local grocery store.

Michele Louise Seals

With her husband, Manley Seals, Michele and their daughter Abbie live in Alabaster, Alabama. Michele works at the Eye Foundation Hospital at UAB.

Allen Jay Schissler

Allen began dancing in the Hartford Ballet Company, returning to the family home of 360 years ago to start his career! After spending 13 years as a professional ballet dancer, living in AL, OK, NJ, WI, and OH, he has retired his dancing shoes and works as a Massage Therapist. He lives now in Northern Virginia with his wife, Jody and 2 sons Quentin and John Thomas.

Jessie Kay Downey

Jessie and Jonathan Downey live in Leeds, AL with her daughter Samantha and their daughter Haley and son Colin.